Animal Massage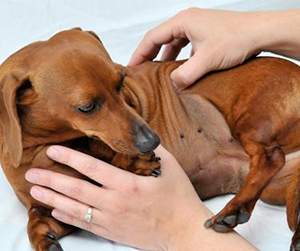 Innovative Pet Therapy (IPTouch) is different from general animal massage.  It is wonderfully unique in the sense that it involves continually being in tune with and reading the animals behavior. It consists of non-medical, hands on communication techniques.
IPTouch is composed of four theories, activated through permission patterns as guided by animals.
Permission
Blocking
Gentling
Positional Elongation
IPTouch Animal Massage and Care is appropriate for every animal in the universe!
Adopted: Help an adopted animal to settle in, bond and trust.
Elderly: Robust movement, joint lubrication, balance, eating desires and healthy digestion are needed for general animal health.
Athletes: Research shows that active pets have a higher probability of physical dis-ease and general discomfort as they age.
Young: Bonding is the first step in training cooperation.
Displaced pets and wildlife:  Activation of the bonding mechanism will allow rescuers to handle and assess these animals during stressful times.
Rainbow Bridge Preparation:  Helping you and your pet together, as your pet crosses over the Rainbow Bridge.** Additional help and information is available on my Grief Recovery page.
>>>>Please note:  AMCP's are not Veterinarians so be sure that your pet continues with their regular Vet check-ups!
Pricing Guidelines:
A typical session starts at $35 which lasts anywhere from 20 to 60mins (depending on the best interest of your pet).  Multiple session packages are available at a discounted rate.
  I will share with you, key techniques that can enrich and accelerate the bonding experience.  Not only will you discover self-improvement, but you can literally take a "hands on" role in improving the world around you and the creatures we share it with.  Ultimately, it's all about Animal Love & Logic.